Have you missed our Pro line? Then we would like to introduce you to a worthy successor: the PRO atrio.
This new member of NewTec is well known and yet innovative. We have optimised our classic while preserving its typical features.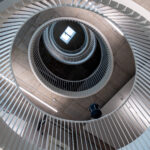 The PRO atrio is our new spherical speaker, which of course also uses our omnidirectional loudspeaker technology. It impresses with its high speech intelligibility and its clean sound. Our special membrane and the special construction of the housing ensure an even sound distribution on 360°.
With just a single PRO atrio you can create a perfect sound over almost all frequency ranges, replacing up to 5 conventional speakers. You also do not need complex control units or control systems.
Thanks to its timelessly elegant design, it easily integrates into any existing architecture. Available in a suspended version as well as a stand and wall model, the PRO atrio is practically a flexible all-rounder.
Ideal locations are shopping malls, bars / restaurants with live events, museums, lecture halls and generally larger halls. Due to its technical properties, it is ideal for use at events of all kinds.
Just see for yourself how our new PRO atrio sounds like!
Type
Ceiling or Floor-mounting speaker
Principle
Broadband 2 way unit
Nominal / Music power
260 / 450 Watt
Nominal sensitivity ( 1 W , 1 m )
84 dB
Maximum SPL
111 dB
Range of use
80-21.000 Hz
Frequency response
4.000 Hz
Woofer and midrange chassis
2 x 110 mm Reversed Alu Cone (Ferrite Magnet)
Tweeter chassis
26 mm Dome Tweeter with Alu Frontplate (Double Ferrite Magnet)
Impedance
8 Ohm
Connectors
Speakon 2-pin
Enclosure
Aluminium/ Carbon-fibre-reinforced ABS plastic
Dimensions
H: 38 cm
Ø: 23 cm
Weight
5,2 kg
Colours
Black, white (all RAL colours on request)
Characteristics
Spherical speaker with 360° sound distribution
Clean sound and high voice clarity
Timeless and elegant design